FEATURED ITEMS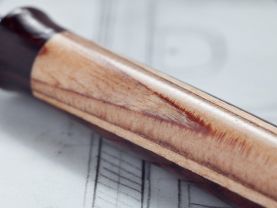 ▶ Summary ◀ Price : $49 CraftsLine: Cento Wood: Rosewood, Birch-Wood Inlay Body Mechanism: Pentel (Made in Japan) Refill:...
RECENT ITEMS
SHOP ANNOUNCEMENT
CGW Woodworks. | Handmade Wood Pens & Wood Pencils |Treasure
Hello Everyone,

We are CGW (Cento, Greg & Warren) and new to CraftisART and for this very reason we have absolutely no feedback as of yet. The good news is that we've NEW pens!

Father's Day is quickly approaching so Right now we are offering FREE SHIPPING and a 10% DISCOUNT on any pen and pencil combination!

Have a look around and feel free to message us with any questions.

Thanks,
Greg & the CGW team
RECENT REVIEWS





5 of 5 by
nhef
This is a superb pencil. It is one of a kind and the beauty of it is that you know it's hand-made. The pencil is so well crafted and the wood is gorgeous. I love it and I would recommend it, especially as a precious gift for anyone you like/love. Thank you for making this wonderful pencil.