My Profile
About Me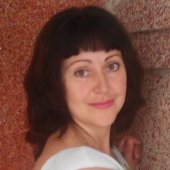 Hello, let me introduce myself. My name is Nadya. As an artist, I have been doing this for most of my life. Having been educated, I taught art at school.
When I moved to another city, I changed jobs. I was interested in working as an artist in a ceramic factory. For 3 years I came up with many interesting designs for decorative vases and plates. Some of my projects called Ancient Greece and others were put into production.
Life has changed again. When I moved to my elderly parents, I had to think about how to work at home. I decided to try to draw on wood products what I liked: miniatures and portraits. So I started making original souvenirs.
I use high quality gouache for my work; I really love this technique, while you can convey small details and emphasize liveliness due to its velvety. I also use acrylic paints for decoration. All works are unique due to the contrasts in the technique of gouache painting. The picture is visible from a distance, despite the fact that the products are small in size and shape. This is how I solve this problem; Such souvenirs, as a rule, people place on a piece of furniture, so when you enter the room you can see a miniature in the distance.
So, I started my small business. For 13 years I have been working in this direction. I will be happy to help you choose a gift for your loved ones, discuss with you all the details and wishes. Together we will create a small masterpiece.