My Profile
About Me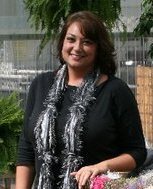 Hello and thank you for visiting Floras Finest Scarves! My name is Angel and I love to knit and create unique fiber art accessories. I started out knitting scarves and making beautiful greeting cards many years ago and in 2009 decided I wanted to create a unique accessory that would enhance any outfit. I created the Vixen All Fringe Knotted Scarf. I'd never seen anything like it and thought it was the perfect accessory. I love to wear them with jeans and a t-shirt--it's amazing how much flair they add!! I also wear them around a collared shirt with slacks and a tank top for a dressier look.

This started as side income for me and continues to grow, so much so that I am no longer able to offer greeting cards as all of my time is spent creating unique scarves!!

In addition to selling online, I sell to several boutiques here in VA as well as across the country and am always looking for new places. If you know of a local shop that might be interested in carrying my scarves, please let me know.

My scarves are created in my studio using a mix of unique fibers (some of which have been discontinued). I do purchase some yarn locally, but to get the variety of textures and colors, I use a lot of yarns that are imported from all over the world including Turkey, Italy, and France. My Vixen All Fringe Knotted Scarves are created using 10-15 different yarns per scarf (this creates the gorgeous texture my customers are always raving about) and are tied together using four knots (two knots for the scarflette line). This gives it a finished, polished look as opposed to the hand-tying method which can allow strands to be pulled loose.

In addition to 40+ color combinations, I also offer the All Fringe Knotted Scarves for any NFL team, college/school, sports teams. If the one you are looking for is not listed in my shop, drop me a line. I probably just haven't had a chance to add it yet!

PLEASE NOTE: The team/football scarves I sell are not a licensed products of the NCAA or NFL. I am not affiliated with or sponsored by the NCAA, NFL or any other major organization.

My goal is to provide the best quality products for my customers to keep them coming back. But don't just take my word for it! See for yourself!