My Profile
About Me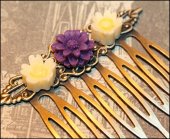 PinkFlowerCube
http://www.facebook.com/Pinkflowercube

About Michelle:
Hi! Thanks so much for stopping by my little shop... I'm a recent college grad, majoring in Journalism and trying to figure out my next move in life. I'm inspired by all walks of life, nature, photography, quotes, music, buttons, fabric, and many more things.

I love movies, music, crafts of any kind, reading, & people watching.

Feel free to convo. me!